Lothlan
Vitals
Emblem

Government
Monarchy
Leadership
House Turcott
Head of State Title
King
Head of State
Citizenry
Lothlani
Capitol
Jura
Population
Largest City
Jura
Established
7477.2
Allies
Rivals
Currency
Languages
Canderian
Industry
Historical
Old Maps
Lothlan is the third-largest nation by land mass (Clavermark is the largest) in Lesser Galwyndor. It was once a part of Aeryloth, until it split following the Aeryloth Civil War in the year 7477. It is ruled by the House Turcott from the seat at Jura.
People of Lothlan are referred to as "Lothlani".
Lothlan is primarily rivaled with Averia, because Queen Caliana is of the House Turcott bloodline. It is also aligned with Terismark, as it seceded from Aeryl.
They maintain the centuries-old rivalry with Aeryl, due to the old feuds from the civil war. They are also rivals with Gruenormark.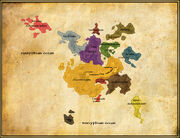 Provinces
Edit
Lothlan is made up of five provinces:
Major Settlements
Edit