Outriders
Vitals
Leader
Status
active
Location
widespread, The Verges
Motto
Everyplace sought, every load brought.
Statistics
Appears in
Outrider
Mentioned in
Legion of Liberty
The Outriders are a special organization of armed couriers that originated in the Verges wasteland region, who serve to guard and deliver high-value parcels. They are known for their exceptional devotion to duty, combat prowess, wilderness survival skills, and horsemanship. Their emblem is a split black "x" on a red diamond over a field of black, which they wear as an armband on the right bicep. Their motto is "Everyplace sought, every load brought."
One thing that sets them apart from other organizations is their stellar reputation. They are a universally accepted organization, and very good at what they do. Being that they are pretty much ubiquitous (world-wide), one of the stipulations for working within a region is that there is no place they cannot go, and they are allowed to maintain absolute privacy of their clients. Because of their valuable, unparalleled service, no country can deny this request.
They first appear in Book One of the Everwind Series, titled Outrider.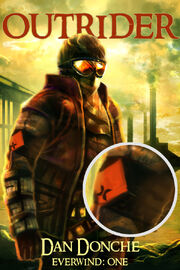 The Outrider organization first began in Everwind City due to an overwhelming need for reliable transport of correspondence, items, etc., as it was most often too dangerous for anyone besides caravans who could afford to pay for armed escort. Until that point, caravans and other mercenaries would take deliveries, but they were notoriously unreliable. As soon as the first few Outrider Stations appeared and word spread of their competence, the Outriders secured a foothold and began to spread all across the continent. The Outrider emblem is now recognized as a symbol of loyalty, dedication, and trustworthiness.
Outrider Ranks
Edit
Outrider Rank Insignias
Outrider Ranks
Apprentice
Outrider
Stationmaster
Notable Outriders
Edit
Outrider Related
Edit